The Flag of Prince Edward Island


The Island flag is rectangular in shape bordered on three sides away from the mast by alternative bands of red and white. The flag contains the coat of arms which was created in 1769 when the Island of St. John (known today as Prince Edward Island) was made a separate colony and required a government seal. History records that His Majesty, King George III, expressed his desire for the seal to have a large oak tree to represent the Mother Country; and, in the shadow of that magnificent oak there would be a small oak with a corrugation of three representing the Island and its three counties: Kings, Queens and Prince.

Although not on the flag, the proper coat of arms appears with the words "PARVA SUB INGENTI," which literally translates as: "Little under the great." In other words, England promised to protect her little colony as the great oak protects the little oak from harm.

The Floral Emblem of Prince Edward Island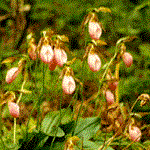 On April 25, 1947, the Legislative Assembly dedicated the lady's-slipper (Cypripedium acaule) as the floral emblem of Prince Edward Island. As a species of orchid, the lady's-slipper gained its name from the shape of its petals which form a pouch somewhat like a slipper. The flower is pollinated by bees that tumble into the pouch and, while escaping, the bees brush against the male and female flower parts. The lady's-slipper thrives in shady and moist woodlands and it blooms in late May and June.


The Provincial Bird—Blue Jay


A public vote in correspondence with Environment Week in 1976, led to the official declaration of the blue Jay as Prince Edward Island's avian emblem during the 1977 session of the Provincial Legislature. The blue jay is adorned with a sky-blue hood, wings and tail feathers; a white throat and breast; and black arcs across the wing tips. This provincial bird is common across the Island and is generally considered non-migratory. The blue jay has a varied diet consisting of grains, animal matter, seeds and suet.


The Tartan of Prince Edward Island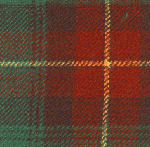 Following a province-wide contest in June of 1960, a tartan designed by Mrs. Jean (MacLean) Reed, a native of Souris, was adopted as the official Island Tartan. The reddish-brown epitomizes the redness of the soil, the green characterizes the grass and trees, the white represents the caps on the waves, and the yellow depicts the sun.
The Provincial Tree—Red Oak


The Prince Edward Island Legislature proclaimed the northern red oak (Quercus rubra) as our Island tree in May of 1987. The Island Government's intent was to recognize the economical and historical importance of the forests to our province. Historically, the red oak had been used in the ship building trade and also for making barrels for the transport of dry goods. Today, the red oak is used for the building of furniture, interior finishing and flooring. Occasionally you may find pure stands of red oak. However, it is most often found nestled among other common species of trees such as birch, pine and maple. The tree appears on both the Island flag and coat of arms.
The

Provincial Soil—The Charlottetown Series
Ten years after the red oak was proclaimed the provincial tree, the Charlottetown soil series was designated as the official soil of Prince Edward Island. On February 21, 1997, the Island's Agriculture and Forestry minister, Eric Hammill, adopted the Charlottetown soil series as an Island emblem to recognize Prince Edward Island's greatest natural resource—the land. The Charlottetown series is the most predominent soil type on the Island and it accounts for almost one third of our total acreage. The soil has a moderately well-drained sandy loam texture and is somewhat stone free. It is considered the best soil for the production of one of the Island's most famous commodities—the potato.