"The Island Way of Life
Mirrored Through the Eyes of the Kensington Area,
The Heart of Prince Edward Island"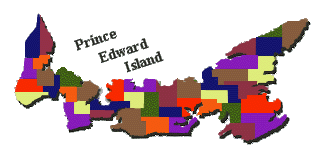 Prince Edward Island has been and continues to be described as a patchwork quilt because of
the many diverse communities spread across the island. Moreover, our rolling fields are cut like
patches of a quilt containing potatoes, wheat, clover, and so on. The content of this website,
which is listed below, reflects the unique qualities of our princely island.
Culture | Commerce | Islanders | Transportation | Environment | Services
Perspectives | Recipes | Gallery | Bibliography | Credits | Emblems
Home
Heritage Sites—National Park, Historic Sites, Scenic Heritage Roads, Museums and Historic Villages, Historic Buildings and Churches (List of Historic Churches), Monuments to Our Past
Ethnic Heritage—Mi'kmaq, Acadians (List of Acadian Names & The Acadian Anthem), English, Scots (A Scottish Medley), Irish (Irish Washer Woman), Multiculturalism (List of Islanders' Countries of Origin)
Genealogy—Community Histories (List of Community History Books), Family Histories, Archival Resources, Church Records and Cemeteries
Contemporary Culture
Island Sayings
Agriculture—Potatoes, Beef and Dairy, Poultry and Eggs, Swine, Fruit and Vegetables, Field Crops, Emerging Commodities, Beekeeping
Fishing—Aquaculture, Lobster, Shellfish, Finfish, Specialty Markets, List of Fish Species
Tourism—Outdoor Adventures, Attractions, Accommodations, Festivals and Events
Forestry—Christmas Trade, Demonstration Woodlots, Wood Products
Island Enterprise—Processing, Manufacturing, Information Technology, Aerospace, Entertainment (List of Emily of New Moon Filming Sites)
Heroes—Lest We Forget (List of Island War Cenotaphs), Islanders of Valour, Women Who Served Abroad (List of Nurses Who Served Abroad), Athletes (List of Members of Prince Edward Island's Sports Hall of Fame), Writers (Island Hymn and Works by L. M. Montgomery), Artists, Entertainers (Put Your Hand In The Hand)
Volunteers—Service Groups, Church Groups, Recreation Groups, Youth Groups, Community School, Advocacy Groups
Roads
Confederation Trail
Confederation Bridge
Ferry Service
Air Travel
Forestry Practices
Soil Erosion
Soil Conservation
Irving Whale
Ground Water Quality
Surface Water Quality
Natural Disasters
Island Woodland Plants
Native Trees and Common Shrubs

Police
Fire
Health
Government
Education
Waste Management

Youth perspectives on the "Island Way of Life" from Kensington students.
Popular recipes originating from around the world.

Gallery


Bibliography


Credits and Team Profile