Lois Brown, named Citizen of the Year in the Town's annual Canada Day Celebrations this year by Mayor Gordon Coffin, was just awarded another honor – she was just named one of the PEI Senior Islanders of the Year.
The ceremony was held on October 1st at the Rodd Hotel, with opening remarks by Paul H. Schurman, and greetings by Honorable Valerie Docherty, the Minister responsible for seniors.
The five recipients of the award were:
– Lois Brown
– Sr. Norma Gallant
– J. Eric Hammill
– John Kenny
– Marion Murphy
Congratulations to Lois Brown, and the other recipients!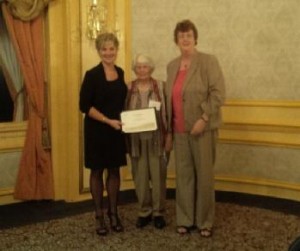 Honorable Valerie Docherty, Lois Brown, and Mary Hughes,
PEI Seniors' Secretariat Chairperson.