About Kensington
Several thoughts come to mind when you hear the phrase "Quality of Life"; a protected area to live and bring up a family, access to respectable schools and churches; affordable housing and an abundance of green space.
Kensington truly is a wonderful place to call home. Kensington is bordered by friendly communities; rural farm estates, ocean front cottages, campgrounds and affordable ocean frontage. Wholesome sea air and untouched land is just right for solitude or investment.
Kensington has become identified as "The Small Town with a Lot to Offer". We've preserved the genuineness of our "smallness" but we pride ourselves on offering many places to shop, dine, exercise, and be entertained! Our welcoming small-town ambiance makes it an impressive destination to visit, live or start a business.
Kensington's nearby proximity to Cavendish, Charlottetown and Summerside allows for easy travel and tranquil panoramic views.
We welcome you to Kensington and Area; our future is about sustainability, growth, progress and community.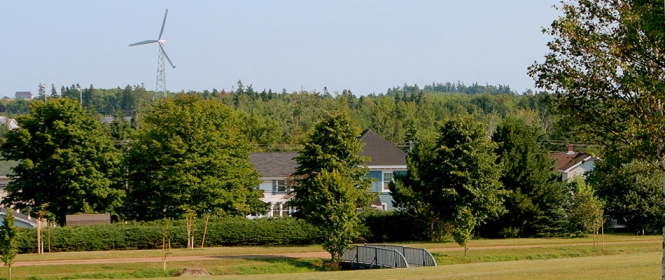 The great thing about this little town…
Kensington is a progressive community with a current population of just under 1500 people. The Town is located in the heartland of Prince Edward Island and is a "transportation hub" to the province's main business and tourist centres. During the tourist season it is estimated that more than 800,000 vehicles pass through the Town's main intersection.
Kensington is located approximately 40 minutes from the Province's capital city – Charlottetown, 20 minutes from the Confederation Bridge, 10 minutes from the City of Summerside, and 15 minutes from either Cavendish or Malpeque.
Kensington's services include:
Town Police Force, Recreation Facilities, Central Water and Sewer, Fire Protection, Parks;
Library, Community Medical Centre, Day Care Centres, Video Conferencing Centre, Industrial Park;
Dental Offices, Pharmacy, Clothing and Gift Stores, Flower Shop, Real Estate, Food Outlets, Grocery Stores, Gas Stations, Post Office, Bed and Breakfast Facilities, Art Galleries, Variety of Other Businesses;
Canadian Legion, Clubs, Churches, Schools and Fraternal Organizations.
Rich in cultural heritage and pride in community, Kensington is attractive as a location in which to live, raise a family, conduct business – or just to visit.