Seniors Initiatives
The Town of Kensington has provided the building at 25A Garden Drive for meetings and activities of the Senior Surfers Club of Kensington and Area for which we are most grateful. New members are welcome to join at $10 a year. We have a present membership of 15, and new members are welcome. We look forward to the social time – a very important part at the end of each meeting.
Monthly meeting every second Monday at 1:00 p.m.-2:00 p.m. followed by speakers (concerns of seniors),parties and demonstrations of projects done by seniors of Kensington and Area.
Monthly Schedule
January – Celebrate birthdays of club members from June to Jan. with cupcake and tea and a story of a memorable birthday
February – Pharmacist speaker
March – Speaker, Norma McColeman on Elder Abuse
April – Nutritionist "Cooking for two" / Bingo with prizes donated by club members
May – Bus tour of eastern PEI. / Seniors Federation Annual General Meeting
June – Annual Meeting-election of officers.
The Senior Surfers Club does not meet in the months of July and August.
Senior Surfers Club Executive
President – Dianne Doucette
Vice President – Louise Weeks
Secretary – Norma Pasatieri
Treasurer – Iva Schurman
Directors – Joyce Bryenton, Barbara Connick, Mary Cousins
Questions regarding the club may be directed to any member of the Executive.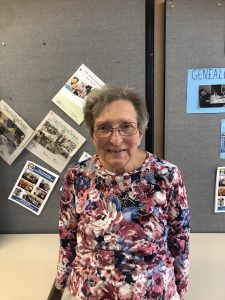 President – Dianne Doucette
Ukulele Classes
Ukulele classes are funded by the L.E.A.P (Leaning Elders Arts Program) by Hon.Robert Henderson, Minister of Culture and Tourism and sponsored by the Seniors Federation of PEI.There are 8 sessions under the direction of Chris Smith.Ten participants are preparing for "Open House" on April 1 (Storm Date April 8) from 2-4 at the Seniors'Centre at 25A Garden Drive.

Stronger Seniors Workout Program DVD
Chair exercises for seniors meet each Monday at 1:00 p.m.except on the second Monday of the month.Can accommodate 10-12 members- not necessarily club members.There is no fee for this program and Chair of this program is Jay McNair.
New Horizons Program
We are awaiting results of a recent application for new project for the fall and spring of 2015/2016!
.