Community Awards
2016 Youth and Citizen of the Year
Jaunita Boucher, Citizen of the Year
Jaunita Boucher is described as a generous role model for children of the Kensington area and has an effect like a pebble in a pond; her kindness ripples across the community and touches us all.  She's been a volunteer for countless initiatives within Home and School of Queen Elizabeth Elementary, even following the graduation of her own children.
Her love and dedication to the Girl Guides program has been recognized throughout Kensington, across Prince Edward Island, and as far as London, England. She continues to strive to give more to the children of the community every day.  We are proud to recognize Jaunita Boucher as our 2016 citizen of the year.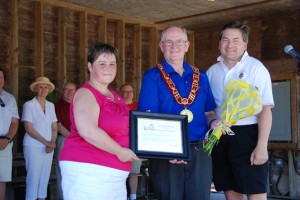 Brianna MacKay, Youth of the Year
Brianna, through a process of public nomination, is judged to have demonstrated outstanding achievement in each of the aforestated areas of endeavour. As a maturing leader, she has dedicated herself to countless school activities, community involvement, and is a true community volunteer, all of which builds the Town of Kensington to become a stronger community for everyone. It is with great pleasure that this deserving youth member of the Town of Kensington has been selected to receive the 2016 Youth of the Year Award.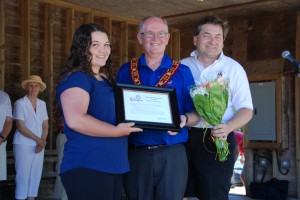 Citizen of the Year Award and Youth of the Year Award Submission Criteria
The Citizen of the Year award was established by Ivan J. Gallant in 2004 during his term as Mayor. The award exemplifies outstanding service to one's community combined with an extraordinary determination and passionate desire to contribute towards improving the quality of life of residents of the Town of Kensington and, more broadly, the quality of life for residents of Prince Edward Island and Canada.
The Youth of the Year Award was established in 2005 by Mayor Ivan Gallant. It is annually presented by the Town of Kensington to a youth member of the community who has demonstrated accomplishment in three or more of the following areas:
Academic excellence; outstanding achievement in athletic or cultural activities
Significant contribution to school affairs and extracurricular activities
Participation in community activities together with demonstrated leadership skills
Overall good character and citizenship
Submissions for Nomination should include:
1) NOMINATION LETTER – a cover letter that will include the name, address, telephone number of both the nominee and nominator(s).
2) ACCOMPLISHMENTS – A brief statement outlining the reasons the individual is considered worthy of receiving the Award for which he/she is being nominated. Supporting details as to contributions and accomplishments for the person being nominated and other information that may be helpful in evaluating the nomination.
3) REFERENCES – two letters from persons in support of the nomination.
Past Award Winners
2004 Citizen of the Year Award Winner – Roscoe Pendleton
2005 Citizen of the Year Award Winner – Rudy Croken
2006 Citizen of the Year Award Winner – Cindy Doucette
2007 Citizen of the Year Award Winner – Sheila Dunphy
2008 Citizen of the Year Award Winner – Gloria MacNeill
2009 Citizen of the Year Award Winner – Garnett Turner
2010 Citizen of the Year Award Winner – Shelly Moase
2011 Citizen of the Year Award Winner – Lea Bell
2012 Citizens of the Year Award Winners- Rendall and Sandra Caseley
2013 Citizen of the Year Award –  Lois Brown
2014 Citizen of the Year Award Winner – Ann Brander
2015 Citizen of the Year Award Winner – Bonnie MacRae
2005 Youth of the Year Award Winner – Stacey E. Coffin
2006 Youth of the Year Award Winner – Sara M. Wilson
2007 Youth of the Year Award Winner – Stephanie Gallant
2008 Youth of the Year Award Winner – Maryann Ashley
2009 Youth of the Year Award Winner – Paige Mills
2010 Youth of the Year Award Winner – Sarah Elizabeth MacDonald
2011 Youth of the Year Award Winner – Tyler Doucette
2012 Youth of the Year Award Winner – Megan MacLeod
2013 Youth of the Year Award Winner – Emma MacDermott
2014 Youth of the Year Award Winner – Makayla Powell
2015 Youth of the Year Award Winner – Kiersten Richards