Harvest Festival

Friday August 16, 2019
Sponsored by Cavendish Farms
8:00pm-1:00am How Well Do You know Your Spouse
Followed by Leon Gallant and Friends.
Location: Family and Friends
Tickets $10 individual or Reserved Tables of 4, 6 and 8 available
For tickets please call Robert at 902-836-3509 or Charlene at 902-291-3334
Saturday August 17, 2019
Sponsored by Bell Aliant
7:30 – 10:30 am Shriner's Pancake Breakfast, Kensington Legion
8:30 am 46th Annual Malpeque Bay Credit Union 25km Foot Race, Start at Church of Scotland, Stanchel
2:00 – 3:00 pm Bell Aliant Mammoth Street Parade – Theme: Picnic at the Park
(in case of inclement weather, Rain Date: Sunday at 6.30 PM)
3:00 – 5:00 pm Family Day – Credit Union Centre Kensington (indoors)
Admission $2.00 per person $5.00 Family Sponsored by Kensington Food Basket
-Indoor Mini Golf Course, Bounce Houses
-Balloon Twisters, Carnival Games, Ice Cream
3:00 – 4:00 pm "The Blessing of the Animals" Rev. Fagan
Location: Alysha Toombs Park Gazebo
4:00 – 7:00 pm Washer Toss Tournament | Free Mussels & Live Entertainment with Allan Sonier
Location: Kensington Legion – Sponsored by Shriners
9:00 pm-1:00 am DJ Doug Parker – 90's Themed Video Dance Location: Kensington Legion
Sunday August 18, 2019
Sponsored by Tim Hortons
9:30 am Ecumenical Service | Location: Credit Union Centre
2:00 pm MacGregor Old West Town- Country Strong Competition (teams of 4)
Location: 18 Cheese Factory Road (Route 20)
Contact Elaine Clark email: macgregoroldwest@gmail.com to register
Compete in stacking hay, target shooting, feed bag race, post hole digging, saw a log,
rope climb, and more
1:00 pm Harvest Festival Golf Tournament
Sponsored by PE AQUA FARMS
4 person Scramble- Eagles Glenn Golf Course $350.00 per team
Includes Cart, Green Fee and Meal after the round. Prizes for everyone
On Course food and beverages Sponsored by Kensington Food Basket and Ship To Shore Restaurant
Prizes – $10,000 Hole In One (Sponsored by Castle Spring Valley Building Centre) Longest drive, Closest to the Hole & Draw Prizes.
To register email: Robert at cuc@townofkensington.com
Monday August 19, 2019
Sponsored by Atlantic Lottery
9:00 – 12:00 pm Reg Hiltz Memorial Flower Show
9:00 – 12:00 pm WI Food and Vegetable Exhibit / WI Handicraft Exhibit Registration
6:00 pm Flower Show Awards
6:30 – 7:30 pm Savour the Flavors Sampling
6:30 pm Opening Ceremonies
Special Guest – Jonathan Greenan – (Jeopardy Champion)
Clair Mayhew Volunteer of the Year Award Presentation
7:00 pm Miss Community Gardens Pageant Talent Portion
7:45pm Ultimate Fisherman's Challenge
Tuesday August 20, 2019
Sponsored by Murphy's Pharmacy
Free Admission Night! Sponsored by Fun-Times Enterprises
5:00 – 9:00 pm Fry Wagon Fundraiser and BBQ Kensington Minor Ball
5:00 – 9:00 pm Minor Ball Double Header Ballfields
6:00 – 7:30 pm Locomotion Tour CN Rail 7 Piece Band (Credit Union Centre)
6.00 – 8:00 pm Come try Pickle Ball (old Ice Surface at CUC) all ages
6:00 – 8:00 pm Art Paint Night with Scott O'Neill – Harvest Theme
15 yrs+ | $25 to register 902-836-3509 (Limited availability)
7:30 – 9:00 pm PEI Youth Talent Competition (Credit Union Centre)
Sponsored by PEI Mutual
Wednesday August 21, 2019
Sponsored by Castle Building Supplies
12:00 – 4:00 pm Crokinole – Credit Union Centre
Sponsored by Murphy's Pharmacy & Malpeque Bay Credit Union
6:15 – 7:00 pm Live Music- Credit Union Centre
7:00 – 7:45 pm Miss Community Gardens Pageant Evening Wear Portion
8:00 pm Kim Albert & Faces – Credit Union Centre and Booth Prize Draws
9:00 pm Miss Community Gardens 2019 Crowning Ceremony
A Special Thanks to All of our Sponsors: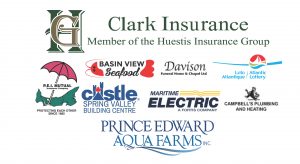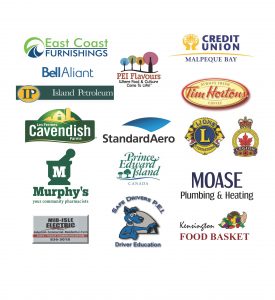 FRENCH RIVER GOLF COURSE | CLINTON VIEW LODGE | MARITIME CONSTRUCTION
RED SANDS GOLF COURSE | KENSINGTON AGRICULTURAL SERVICES | SCOTIABANK
SHIP TO SHORE | D. ALEX MACDONALD| K'TOWN AUTO PARTS | COOP COUNTRY STORE
TOOMBS MACDOUGALL CPA INC | KMP | GRECO | ISLAND STONE PUB | INDIAN RIVER FESTIVAL
KENSINGTON VET CLINIC|ENMANS AUDIO|HICKEY & HYNDMAN INSURANCE| MID-ISLE FARMS
GREEN GABLES|ANDERSON'S CREEK GOLF COURSE|KOOL BREEZE FARMS|CURRAN & BRIGGS
CASELEY'S BRIDAL BOUTIQUE|THOMPSON WELL DRILLING|CAPITAL "T" ELECTRIC
NOONAN PETROLEUM|SHARPE CONSTRUCTION |COUNTYLINE COURIER|MALLETT EXTERIORS
MOUNTAIN WOODWORKING|LOTUS GARDEN|SUMMERSIDE CHRYSLER DODGE| BUILDING BLOCS
TRAVELLERS REST MINI HOMES LTD| MARY'S BAKE SHOPPE|BEAIRSTO INSURANCE
NOVUS GLASS|COMMERCIAL CONSTRUCTION|ISLAND SOFTENERS| MARITIME PRIDE EGGS
TOWNSHIP CHEVROLET BUICK GMC|EGG FARMERS OF PEI |CALLBECKS HOME HARDWARE
CENTENNIAL AUTO GROUP | WET N' WILD CASE WASH | FAMILY & FRIENDS RESTAURANT
Exhibit Information
Reg Hiltz Flower Show
Welcome to P.E.I.'s largest Flower Show! Look forward to a large entry list. Don't think your flowers aren't good enough! Don't stay home! Come along to Community Harvest Festival, bring your flowers and be an exhibitor. The entry fee is the price of admission to the Festival. Containers are supplied for all classes except the decorative section.
Download the Reg Hiltz Memorial Flower Show Booklet 2019
1. Entries will be received in all classes until 12:00 noon, day of Flower Show.
2. No more than one entry per person on any one class.
3. No one except judges and secretaries will be allowed in the show area after 12noon and until judges have completed their work.
4. Judges may withhold ribbons- if no exhibits merit them.
5. All exhibitors must be amateur growers.
6. All trophies must be presented Monday at 6:00 P.M., the day of the show.
7. Flowers must remain on exhibit until Wednesday night.
8. All trophies retired will remain on exhibit in Credit Union Centre, Kensington, P.E.I., Canada.
Women's Institute Handicraft Rules and Regulations
ART-HANDICRAFT-FOODS-VEGETABLES
Open to all residents of PEI
August 21-26, 2020
Download the Kensington Harvest Festival WI 2020 Handicraft
1.) All entries are entered at owner's risk, however all possible precautions will be takes. This year our exhibit will be located in booths on the floor on the Arena.
2.) All Art and Handicraft, Food and Vegetable exhibits will be received on Monday, August 21, 2020 from 9:00 to 12:00 p.m. (Judging begins at 12:30 p.m.)
3.) All exhibits are to be removed from W.I. Room on Wednesday, August 26 after 9:00 p.m. or Thursday morning from 9-10:00 a.m. All entries after that are at the owner's risk.
4.) Prize money is to be picked up when exhibits are removed on Wednesday night or Thursday morning.
5.) Only one article per exhibitor can be placed in each section of a class and must have been made in the past year. There are to be no identifying marks on the exhibit – and names or initials should be well covered.
6.) The Judges are fully qualified and competent. Their decision will be final. Handicraft articles will be judged on workmanship, coloring, design, and durability and overall appearance. The Judges may withhold prizes in any section if the standard of the work is inferior.
7.) Please note: Any Exhibitor wishing to sell handicrafts in the W.I. Booth may do so. 10% is added to your price by the W.I. Committee. For sale articles will be marked following judges.