Congratulations to Lincoln MacKay, for his winning entry for the RCMP's annual Name the Puppy Contest.
From the RCMP Website:
INNISFAIL, Alberta, April 15, 2014–Ten lucky young Canadians have each won the privilege to name a potential service dog from the RCMP Police Dog Service Training Centre (PDSTC).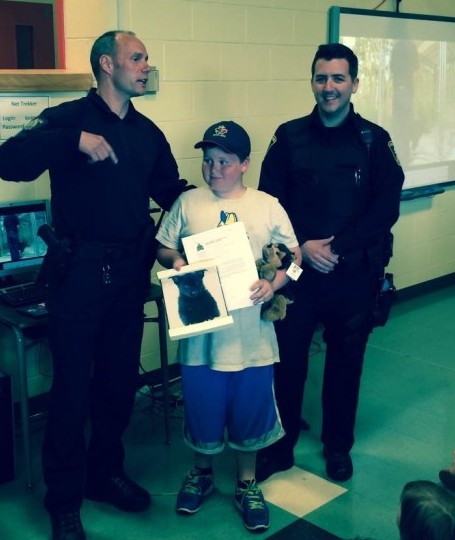 The PDSTC received over 9,000 entries from all across Canada, of which 6,800 entries were received through the new online entry form. As in previous years, the Centre also received several very creative hand drawn entries. The majority of names came from Alberta (2,560 entries), followed by Ontario (1,375 entries) and Newfoundland and Labrador (1,281 entries). Many classroom name submissions were received, as well.
The PDSTC thanks all the young Canadians for the effort put towards the contest.
All names had to start with the letter G. For multiple entries of the same name, winners were selected at random.
The 10 RCMP puppies will be named Gizmo, Gainer, Galley, Griffin, Gabe, Gunner, Gadget, Grady, Grinder, and Gibbs.
The 10 winners will each receive a certificate, an 8×10-inch laminated photo of the puppy they named, a plush German Shepherd toy dog named Justice, and an RCMP cap.
The contest winners are:
Gizmo: Tyler Stang (Edmonton, Alta.)
Gainer: Alexandra Andrist (Estevan, Sask.)
Galley: Steven Andersen (Caledon, Ont.)
Griffin: Lincoln Mackay (Kensington, P.E.I.)
Gabe: Sebastien King (Yellowknife, N.W.T.)
Gunner: Mychayla Robichaud (Hampton, N.B.)
Gadget: Mackenzie Comeau (Amherst, N.S.)
Grady: Grady Miller (Ladysmith, Que.)
Grinder: Devon Vance (Coquitlam, B.C.)
Gibbs: Brody Wright (Paradise, N.L.)
RCMP police service dog teams are an integral part of front line policing. They search for missing or lost people, track and apprehend criminals, remove illicit drugs from the streets, and search for and recover evidence used in crimes.
The Police Dog Service Training Centre—an integral part of RCMP "Depot" Division—is the national training centre in Canada for all RCMP police dog teams. Ninety-three percent of the German Shepherds working as RCMP service dogs were born at the Centre as part of the RCMP Police Dog Breeding Program.