Both schools in Kensington decided to report their good deeds last week as part of the Town's Pay it Forward initiative. Between both schools 1,933 good deeds were reported.
At Kensington Intermediate Senior High, there were a lot of opened doors, people complimenting each other, people sharing their Halloween Candy, and picking up dropped pencils and books. Here are a few of the good deeds:
I took the garbage off a few tables that people had just left there
My friend made a ring out of paperclips for me when she knew I was feeling down
I cleaned another group's table covered in magnesium
Sat by the unpopular kid to make him feel included
I showed another student a trick to conjugate verbs faster in French class
I helped my dad bag potatoes
I donated the change from my lunch money to the veteran's collection box in the office
The Queen Elizabeth Elementary School had some adorable ones, and it really shows that it only takes a small action to have an impact on another person:
Andrea held Sam's hand when he was crying
Skyler saved a swing for me
Shelby gave me a pumpkin seed
Abby helped me when I was stuck on a word
Luke helped me find a page in my book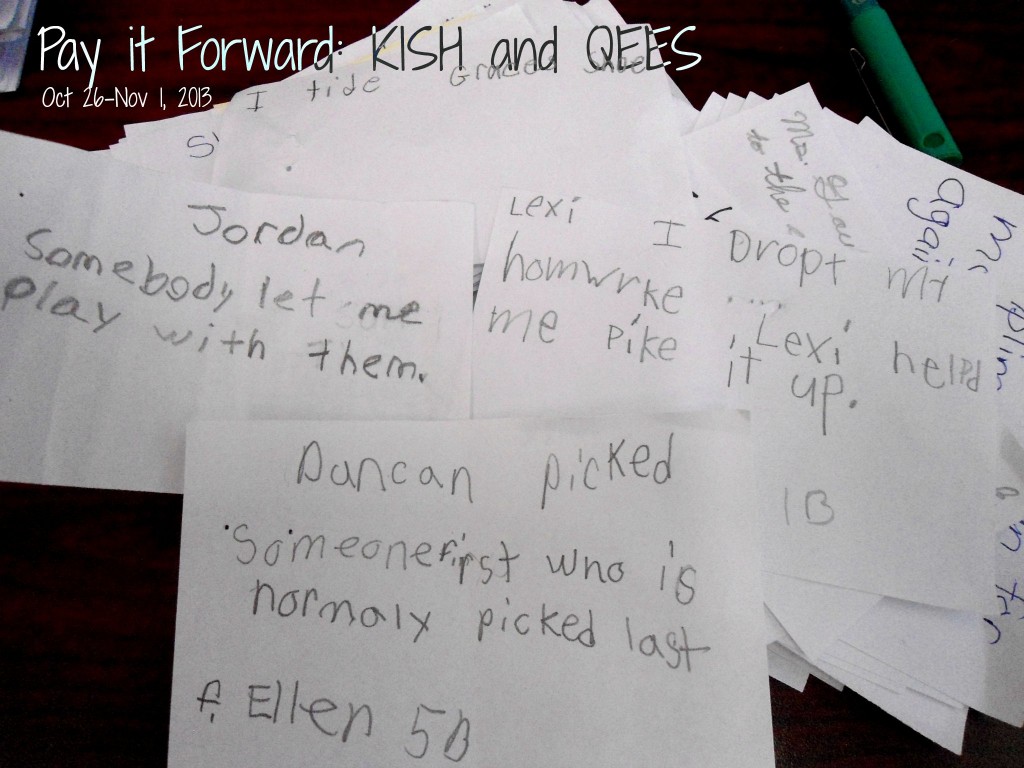 The class with the highest number of Pay it Forwards at Kensington Intermediate Senior High was class 9B, with 278 good deeds. At Queen Elizabeth, the winning class was Mrs. Waugh's class with 149 good deeds. Congratulations to both classes!
We hope that the good deeds continue to happen in both schools, and that the initiative helps students recognize an opportunity to help another, and also recognize when good deeds are happening to them and make an effort to Pay it Forward.
To report your own good deed, or someone else's, email us at payitforward@townofkensington.com