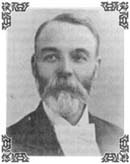 An enterprising physician, druggist, and politician, Dr. Donald Darrach was a man of many talents, and contributed much to building commercial and community life in Kensington. He was born on October 28, 1845, into a family of successful farmers and shipbuilders. Darrach attended Prince of Wales College in Charlottetown P.E.I. before beginning his medical degree at Bouedoin Medical College. He completed his medical training at Harvard University in 1870.

Darrach married Tryphena Tuplin, daughter of Reuben Tuplin, and settled in Margate, where he set up his first medical practice. He later moved to Kensington and continued to practice medicine until 1883, when he decided to devote all his time to the drug business. He expanded his business interests in 1885, purchasing a share in Reuben Tuplin's profitable operation.
John MacNeil was the first druggist at Darrach's pharmacy who later went on to study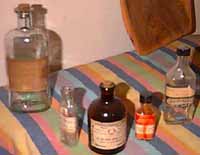 medicine. MacNeil also had the distinction of operating the first telephone in Kensington, housed in the pharmacy. Mrs. Darrach became the first female pharmacist on Prince Edward Island. Their son, Waldon Darrach, eventually took over both the Tuplin store and the pharmacy, and continued to do business in Kensington until he retired in the mid-1960's.
The Darrach Pharmacy was the first of many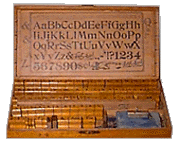 pharmacies to operate in the town. Other pharmacies included the Champion Pharmacy , the Taylor Drug Co., Walker and Semple's Drug Store, the Semple Pharmacy, and Ramsay's Pharmacy.
Always a civic-minded man, Dr. Darrach was also a successful politician. He became the first mayor of the town when Kensington was incorporated in 1914. Along with the duties of mayor, he was also the Justice of the Peace, coroner for Prince County, and commissioner for taking affidavits at the Supreme Court.
On September 20, 1991, the building which was Darrach's original home and also his drugstore was moved to Spring Valley, P. E. I., making way for the new Ramsay's Pharmacy. A plaque mounted on the new building commemorates the former site of Dr. Darrach's home, and the house itself is now being restored to its original splendor.
Reuben Tuplin | James Kennedy | Maynard F. Schurman | Russell Champion |
Donald MacKenzie | K.L. Waite | Other Pharmacies