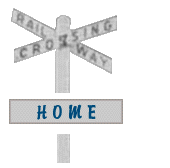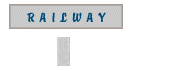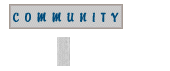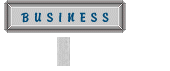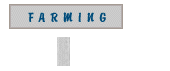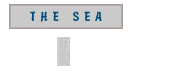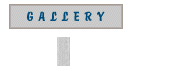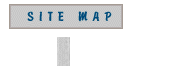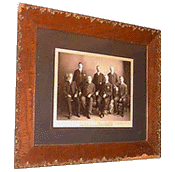 The drug store that Dr. and Mrs. Darrach operated out of their own home was only the first in a long line of pharmacies to set up shop in Kensington. In 1938, D. Roscoe Walker and William J. Semple opened a combination drug and jewelry store. Perhaps they thought that, while buying treatment for sick loved ones, customers might also be inclined to pick up a fancy gift as well! Certainly, a gold watch might do far more to lift one's spirits than some of the bitter-tasting elixirs behind the counter. Eventually, Semple received full interest in the company when Walker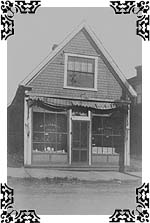 sold his shares and left to fight in the Second World War. Semple manned the store until his death, and then his wife Ruth carried on the business with the help of a loyal employee-- Mr. C. C. Heeschen.
Mr. Heeschen, a pharmacist, began his career in Halifax in 1907, working for the National Drug and Chemical Company Ltd. In 1911, he moved to Prince Edward Island and stayed in the drug business until 1915, when he joined the Canadian Siege Battery and was posted for overseas duty in World War I. Working with an Island doctor, J. R. Matheson, Heeschen was in charge of a team that dressed wounds at the Battle of Vimy Ridge in 1917. The soldiers he treated there were part of an Allied victory that marked a turning point in the war, and one of the greatest Canadian military achievements ever. After serving as a medical orderly until the end of the war, he returned to Charlottetown and arrived in Kensington when Walker and Semple bought out the stock of the pharmacy he was working for. He worked at Semple's for thirty-six years, until his death in 1973, and the store closed its doors that same year.
The Taylor Drug Company opened in Kensington in 1935, and was bought out by Allan Champion in 1956. In turn, Kenneth Ramsay and his wife, Beth, purchased Champion's pharmacy in 1980. The Ramsays continued in the old Champion location until 1991, when they expanded into a larger property. Curiously enough, their modern, state-of-the-art operation stands on the site of the old Darrach homestead, where Kensington's first pharmacy was established more than a century before. And like the Darrachs, both Ramsays are pharmacists.

At left: Scales were used to weigh dosages
of medication by placing coins in the
center of the scale as counter weights.
These scales came from Dr. Darrach's
drugstore.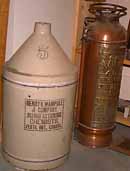 At left: Large crock used by druggists to transport chemicals from Henry K. Wampole and Co., Perth, Ontario. The container on the right is an early fire extinguisher used in Champion's drugstore. Below: Inhaler used by asthmatics. Medication was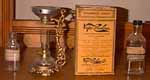 placed in the receptacle on the left while the lamp beneath was lit, causing the contents to create a vapor which the patient inhaled.

Reuben Tuplin | Dr.Donald Darrach | James Kennedy | Maynard F Schurman | Russell Champion |
Donald MacKenzie | K.L. Waite