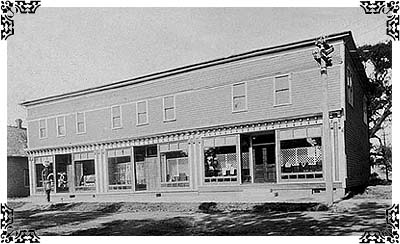 James Kennedy was born in 1869 in Breadalbane, Prince Edward Island, a community located roughly ten miles east of Kensington. After working for the Prince Edward Island Railway for two years, he decided to enter the mercantile business and established himself in Breadalbane.
In 1898, Kennedy relocated to Kensington; perhaps his background with the trains led him to see how commerce tended to follow the rails. After purchasing the old Sims Hotel in 1908, Kennedy set up his business and remained there until his death in 1915 at the age of 47. He was remembered not only for his astuteness in business, but also for having been elected a member of the Prince Edward Island legislature.
After his death, his business was left to his three sons, who continued to operate the store under the same name. Almost miraculously, the building survived the great fire of 1924, a blaze which nearly gutted Kensington's commercial district. However, the Kennedy firm did not escape the same unfortunate fate for long, burning to the ground only four years later in a huge conflagration.
Undaunted, Preston and Charles Kennedy rebuilt the store and passed it on to a third generation, Preston's son Keith, who ran the operation until it closed in 1965. Ironically, the building the Kennedys had rebuilt from the ashes was leveled again by fire, just as it was in the process of being torn down. Their sixty year residence on the property ended, and the lot was sold to Texaco, who built a service station on the spot.
Reuben Tuplin | Dr.Donald Darrach | Maynard F. Schurman | Russell Champion |
Donald MacKenzie | K.L. Waite | Other Pharmacies