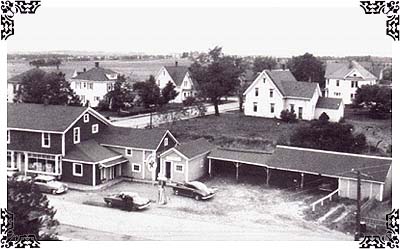 In 1933, Donald MacKenzie had the good fortune to take over Russell Champion's successful general store. The re-named store, MacKenzie and Company, was very much a family operation, as Donald's wife Mabel and son Gerald joined on as partners.
The offerings of the MacKenzie store were large and diverse, including everything from groceries to hardware. It also housed an egg-grading station to accommodate any customers who might have eggs to sell. While this mixture between the egg-grading and mercantile businesses might seem odd at first, it proved to be a winning combination. At the time, the women on the farms usually were responsible for the poultry and spent the money from the sale of eggs for their household needs. At MacKenzie's, they could sell their basket of eggs and then purchase the goods they needed, all under the same roof. Another service that MacKenzie's provided for customers was a horseshed, where they could tie up their horses while doing errands in town. You could say that the shed was a 1930's version of free parking!
MacKenzie and Company remained a family owned business for thirteen years until Donald MacKenzie sold his shares to Mr. Oliver Profitt. Profitt and his two MacKenzie partners ran the store successfully for another 10 years. It was then taken over by Gerald MacKenzie in 1956, who ran it by himself until its eventual closure.
Reuben Tuplin | Dr.Donald Darrach | James Kennedy | Maynard F. Schurman |
Russell Champion | K.L. Waite | Other Pharmacies