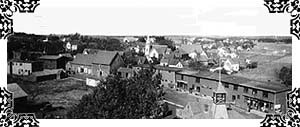 While it had always been a busy junction, Kensington came into its own as a business district with the opening of the railway in 1875. Until that time, the community of Margate was the commercial outpost for the region, mainly due to its proximity to the water. But the railway made quick overland transportation into a reality. Its passage through a community could almost singlehandedly touch off a business boom, bringing with it an influx of trade for merchants and more traffic for taverns and inns. When the tracks bypassed Margate and ran through Kensington, local commerce almost immediately shifted three miles west.


Businessmen left the shoreline and began resettling around the bustling rail station. One of the most influential new arrivals was Reuben Tuplin, who established a large mercantile business in Kensington. His son-in-law, Dr. Donald Darrach, later purchased an interest in the lucrative Tuplin enterprise, and also started a pharmacy which housed the town's first telephone. As well as being shrewd entrepreneurs, members of the business community also allowed their names to stand for political office. Many merchants became mayors, councilmen, and members of the P.E.I. Legislature.
Reuben Tuplin | Dr.Donald Darrach | James Kennedy | Maynard F. Schurman |
Russell Champion | Donald MacKenzie | K.L. Waite | Other Pharmacies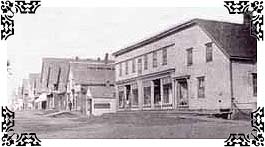 Tradespeople had been plying their skills in Kensington ever since the first settlements here. There was a blacksmith, Edwin Proctor, as early as 1831, and a tailor based in Barrett's Cross by 1833. But the decision to have the railway come through Kensington, and the resulting increase of settlers, almost guaranteed that its tradespeople would flourish. Carriage builders and livery stable owners were in demand since horses were still the main means of transportation. Another essential craft was that of the blacksmith, who kept the horses well-shod and fashioned everything from farm tools to cooking utensils.
Blacksmith | Shoemaker | Tailor and Dressmaker | Livery Stable |
Herbert R. Moase, Tradesman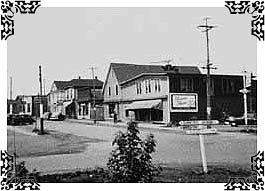 As well as bringing new business for merchants, the daily trains unloaded a steady stream of visitors for the town's taverns and hotels. In the 1820's, one of the first buildings at Five Lane's End was the public house run by Thomas and Margaret Barrett, who welcomed travelers on the Old Post Road between Charlottetown and Summerside. Thomas Sims continued this tradition of hospitality, operating a beautiful hotel that even boasted its own brewery. Relaxation did not necessarily mean revelry, though. These inns were required by law to provide food service as well, and soon restaurants appeared to tantalize the tastebuds of visitors and residents alike.
Early Innkeepers | Hotels | Restaurants


As the business community expanded, there was an increasing demand for financial institutions. A branch of the Summerside bank was the first recorded financial institution in Kensington, and the Bank of New Brunswick opened in 1906, later amalgamating with the Bank of Nova Scotia in 1913. A locally-organized alternative was introduced in 1939 with the registering of the Credit Union. Both the Bank of Nova Scotia and the Credit Union continue to serve Kensington residents today.