Historically, the most significant Prince Edward Island wood products were ships produced in communities across the Island. During the early part of the nineteenth century, the Island's natural cover of oak, white elm, birch, cedar, red and white pine, beech, maple, hackmatack (juniper), and black spruce was harvested and converted to schooners, brigantines, brigs, barks, and gaff-rigged sloops. These ships were then used for coastal trade, import and export trade, and fishing. Many communities around Malpeque Bay, including Princetown (now Malpeque) and Port Hill, were especially active and successful in this industry.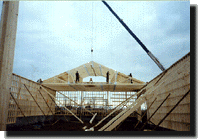 Today, the forestry industry on Prince Edward Island still makes an important contribution to the Island's economy. Over the period between 1991 and 1994, the average annual value of the forest products sector was over $35 million. In 1997, the total value of forest products was $19,052,062, with domestic lumber worth $14,500,000 and value-added sawmilling worth $5,700,000. The most important products were sawlogs, worth $10,729,040, 82 percent of which remained in Prince Edward Island. Together, fuelwood and energy chips were valued at $3,399,859.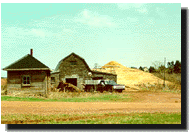 Approximately 30 sawmills operate on the Island, but only a fraction of these are commercial ventures producing graded lumber for wholesale and retail markets. In 1997, 39 percent of Island roundwood pulpwood (total value $2,244,928) was destined for Quebec. 32 percent went to Newfoundland and the remainder to New Brunswick and Nova Scotia. The vast majority (approximately 80 percent) of sawlogs were processed on the Island.

Prince Edward Island's wood products sector is becoming increasingly diverse. It is comprised of seventy-five businesses employing approximately 400 people. These companies use local and imported wood to produce kiln-dried lumber, windows, doors, mouldings, flooring, trusses, pallets, cabinets, furniture, toys, gazebos, garden furniture, and other unique goods. Flooring manufacturers market their products on Prince Edward Island as well as in the Atlantic region and western Canada. Island truss, moulding and window manufacturers sell their products as far away as Japan.